Building a culture of transparency – Let's begin with Compensation!
"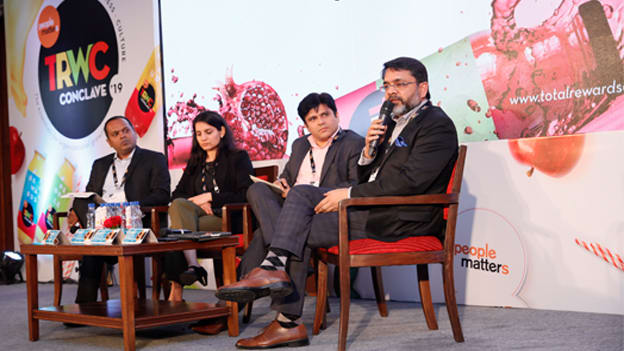 An online salary information company named Payscale, in their recent study found that being transparent with employees about where their pay falls compared to the industry standard and more importantly, the reason behind it, can have a huge impact on whether or not employee believe that they are being paid fairly. This set the tone of the panel discussion on transparency and compensation by Akshay Wadhwa, Head – Total Rewards and Performance Management, Sun Pharma,  Rahul Verma, Global Head – Performance, Rewards and Mobility, Tata Technologies, Varsha Kotdiya, Country Head  – Compensation and Benefits, Capgemini and Yuvaraj Srivastava, Group CHRO, MakeMy Trip.com at the annual TWRC 2019. 
Full transparency in compensation is a rare phenomenon in the Indian corporate landscape.
There are just a handful of brands that allow members of the staff to see what their fellow team members earn. In fact, every company has its own philosophy when it comes to salary transparency. Emerging markets like the US and Europe has national legislations wherein compensation data is made available as per law. Nevertheless, providing lesser or no salary transparency is something majority of private organizations in India are habitual with since many decades. 
Such practice looks good in the beginning as money is often the source of major dissatisfaction and conflict in organizations. Hence, confidentiality in this area is in sync with many organizational philosophies where keeping the compensation information private is imbibed in the culture. However, a transparent culture in compensation boosts a business' bottom line by increasing productivity, retention, engagement score, trust index, and employee satisfaction. Hence, it is found in today's time that practitioners have started feeling the need to help their organizations become more transparent about pay and pay decisions. But the leaders aren't quite sure where to start with! So, here are some tips summed up from the panel discussion that will certainly help to build a culture of compensation transparency in your respective organizations.
Defining transparency is the key!
What is compensation transparency? The definition in itself has a varied perspective. Transparency for an employee has a different view and for an employer, it's again diverse. What must be the degree and level of transparency – what to preach and what not, what to tell and what not!  These are numerous questions that need to be identified by leaders first and then answered in order to bring in the inspirational effect on transparency in compensation.
Rahul emphasizes on how compensation transparency is important, specifically in the context of 'where and how we are operating'. It takes away the distractions and helps employees focus on productivity to the core. And Yuvaraj rightly quotes 'It is not a mirage, it's not a myth! It is very much possible. It's all about how do you define it." 
Shape up manager's capability on compensation conversation
Building on further, there is a need to integrate 'Compensation Conversation' with 'Career Conversation' in every organization. Managers need to build up their capability centered on compensation conversations. Leaders and managers through such series of conversational sessions must help in addressing questions based on 'How your team members are paid? Is that fair as per the Industry standards? How will they get paid more if they deliver more? So on and so forth.
Varsha suggests about how organizations can build on a cohort of people managers – train them and educate them on what are the factors that the organizations consider while creating increments and scores in which employees as a whole are rewarded. Such meaningful conversation with employees stressing on the process of compensation transparency will bring in a lot of value-added positive changes for building in the culture that one is looking for in a progressive organization. 
Data Transparency Vs Process Transparency
Creating and publishing a dashboard with all employees' salaries in order to create a compensation data transparency system cannot be termed as a solution. In fact, Varsha points out that there is a huge element of confidentiality that is practiced in Capgemini. In fact, this has become a personal trait that's imbibed in the culture owing to the context in which the company operates. Managing compensation in the technology industry is a huge challenge. Hence, pay information without context poses a great challenge, states Rahul. Akshay too seconds the thought and rightly points out how one needs to create process transparency in the system rather than mere compensation data transparency. 
It is categorically required to look into the maturity level of the organization when it comes to pay transparency in data.  Compensation data transparency is not the only desirable thing as it many times may lead to untreatable consequences ending up in de-motivation for employees. Yuvaraj, hence recommends building in a pay transparency model that dwells on the process. He further simplistically puts forward an instance where before setting the performance cycle, one can create focus group discussions to internally know what your employees aspire for. By involving people and striking a balance between the context and aspirations of employees, a transparent pay model can be created based on its process. And with the aid of various platform, tools, and technology; businesses can further simplify the compensation transparency system as a whole in the future.
(This article is based on a panel discussion on 'Building a culture of transparency' at the Total Rewards & Wellness Conclave'19 on 16th February 2019). 
Source: People Matters